Basic shape
Cut two pieces of card to make a pitched roof slightly larger than the frame. I've made the eaves a bit too big on this one (5mm or 0.25") They would be better at 2mm or so, because the thatch will overhang the card.
Cut a triangle of card to fill in the gap between the roof and the frame at each end. These also help to strengthen the roof.

Thatch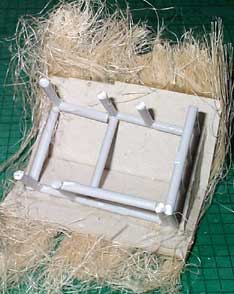 The best material is probably plumber's hemp, but you could also use sisal string (see these huts) or coconut fibres from the head of a broom. I've found a cunning new technique to get the stuff on with the minimum of fuss....
Coat the roof with a layer of PVA, reasonably thick but not so much that it's running off. Lay out the hemp in a strip as wide as the roof on a flat surface. Turn the roof upside down and press one face of it firmly down onto the hemp. Then tilt the roof and press down the other side. Pull the hemp tight so that it isn't baggy around the roof ridge, then turn it the right way up and neaten it up if necessary, so that the card is covered in an even layer of hemp. Now let it dry for an hour or so.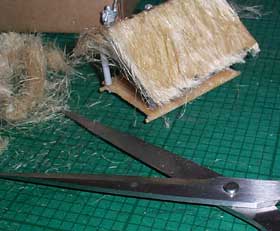 Haircut
Once the glue if fully dry, the roof can be trimmed. Just use a decent pair of scissors and trim it off in a fairly irregular line.
(Note: the hut and the platform are not actually stuck together at this point - the platform needs to be painted first)