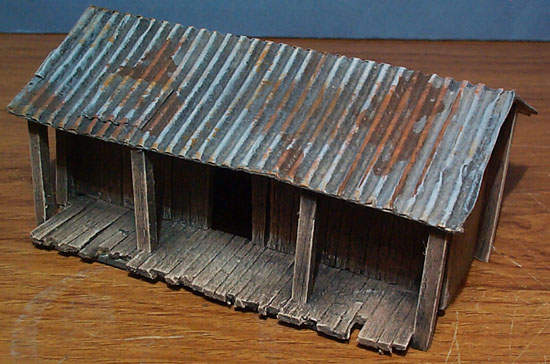 Corrugated Iron Roof
This is made from corrugated cardboard, not the stuff that big boxes are made from, but cardboard with finer corrugations. This is usually used for the boxes for small electrical and kitchen items.
First peel off one face of the cardboard. The best way I have found to do this is to poke a pointed metal thing I have into each corrugation to split off the top. A few tufts of cardboard will remain which can be rubbed off the ridges with fine sandpaper.
Once the cardboard has lost a face it will be very weak, so stick it to mounting board backing. Patches can be added to it by peeling both faces off a piece of cardboard and then gluing it on top of the main piece. You can also intermingle panels of corrugated cardboard with panels of balsa for ramshackle walls.
The posts for the verandah are solid bits of 4 or 5mm balsa. Underneath the balsa verandah is mounting board to strengthen it.
Painting
Light grey was drybrushed over a coat of mid/dark grey to give a basic colour. Then the rust was painted on the roof by putting on large patches of dark brown and then drybrushing these with lighter leather and red-brown tones.