Choosing Base Material
Your choice of base material will depend on what you are going to put on it. If it is a small base with a single rock or tree on it then mounting board is best. On the other hand if you are making for a larger base with lots of plants, particularly grass clumps, then foamboard is essential. This is because you will need to poke lots of holes in it to stick the grass into. The depth of foamboard will give a firmer mounting and the softness of the material will make it much easier to make the holes. As the holes should be made after the base has been textured, mounting board with a layer of sand & PVA over it is so unbelievably tough that this will be a problem.
Foam Board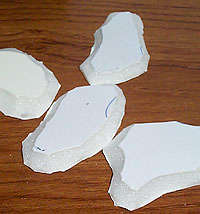 Cut the foamboard roughly to shape. Now using a scalpel, chamfer off the upper edge, making quick slashing moments with the blade away from your hand and body as though you were whittling a stick to a point. A sharp blade is needed or it will tear the foam.
At this stage you can also fine tune the shape. I like to use an irregular rounded shape. Large round bases are best avoided because they have a large area compared to their overall dimension. This means that you will have to do a lot of work to get a reasonable number. It is also difficult to position miniatures on top of the terrain. With this in mind it is best to go for reasonably long thin pieces. (However if you have hundreds of very small pieces they will take a long time to set up on the table, so a little moderation is necessary).
Mounting Board
I generally cut mounting board with a pair of 'tough-cut' scissors, although you could get away with a good pair of ordinary scissors if the board is fairly thin.