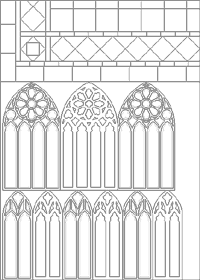 As you might guess, the windows are the most laborious element to make, but for the effect they create, they are well worth the effort. First, download the template on the right. (This is in pdf format). It should be printed at A4 onto thin card.

Although it is possible to use a paper template and cut through it onto card, this is slow and inaccurate compared to having the pattern already printed on card. The best way to print onto card is to use an inkjet printer such as an Epson, which feeds the paper through without bending it much. (Some inkjets loop the paper round a small roller, so this type obviously isn't suitable). My old Epson 500 will print onto fairly substantial card (think at least twice as thick as a Christmas card), without problems. If the rollers aren't taking the card in, you could try pressing on the card to gently push it into them. Start off with some thin card, and work your way up to thicker card to find out what your printer can cope with.

WARNING: Putting card through a printer designed for paper obviously carries a risk of doing permanent damage to the printer. Following these instructions is at your risk, and it is up to you to decide if the card you are using is acceptable for your printer. Don't come crying to me if you wreck it.

If the card is a bit thick you may get the effect shown here, where the print heads don't align on each pass, making straight lines 'jitter' from side-to-side. This is pretty alarming, but didn't do permanent damage to the printer when it happened to me.
If your printer isn't suitable, then you could try printing the template onto paper and then photocopying it onto card (feeding the card into the photocopier's manual feed). Reprographics shops may also be able to copy a print onto card for you.